UPDATED
Plum/White Dress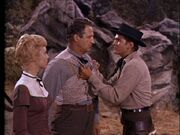 I really like this dress! I like the white high collar, I love the plum color, and Emily's hair is beautiful! The little back bow at the neck is charming and the whole dress is VERY petite! The one draw-back is the dark green trimming around the shoulders. I just don't like plum and green!





Brown/Cream Shawl
I DO NOT like this shawl. It is HUGE, UGLY and makes Emily look lost. However, for the dress underneath it...
(Trivia: A few other characters use this shawl. See here.)





White/Blue Skirt Set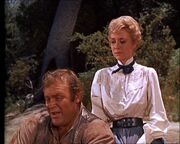 I love it! Love the white blouse, dark blue skirt, and look at that black belt! SO modern, yet classy. I love the blue bow and hair...everything! Going back to the belt, I actually just saw this a few minutes ago! Awesome!
(Trivia: A few other characters wear the white top. See here.)




Yellow Dress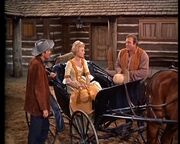 This is one of those dresses I can look at and like, then unlike, then like.... Right now I'm in my like mood, I think! Still, I don't think it looks good on Emily. Of the whole outfit, I most like the hat! Look at that thing! Anyway, the color and style is ok....I guess.
(Trivia: Other characters wear this dress. See here.)
Ad blocker interference detected!
Wikia is a free-to-use site that makes money from advertising. We have a modified experience for viewers using ad blockers

Wikia is not accessible if you've made further modifications. Remove the custom ad blocker rule(s) and the page will load as expected.