Again, I am skipping some episodes because there isn't any dresses. And now...106: The Julia Bulette Story
Gold/White Dress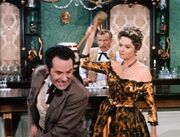 I like the idea of this dress. I love the gold and back lace. But...it looks terrible on Julia, especially with the low cut. And I HATE the jewelry! I can't figure out what it is! (Trivia: In The Countess and Ponderosa Matador, both women wear this dress. It looks much better on them.)




Red/Plaid Skirt Set

I really do not like this dress! I don't like the color (it doesn't look red to me), the hair, jewelry, skirt colors... Even the hat is weird, it is just black netting wrapped around Julia's face!






Lavender Nightdress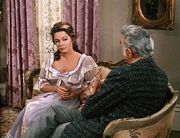 I have one word for this dress/nightdress......beautiful. Classic, chic, cute, soft, pretty, and lot more! (Ok, that was more that one word!) This is an interesting dress, because it is a nightdress/gown, but it could be worn as a regular dress to have guests over (like Julia is talking to Ben here, wearing the dress/gown). I love the bows, ribbons, hair, sleeves...everything!



Tan shawl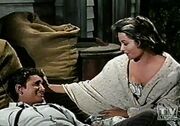 Looks like a feed bag. Sorry! I don't have a pic of the dress under the shawl, but it is a VERY pretty dress. To bad it had to be covered with the feed bag, sorry, shawl...
Ad blocker interference detected!
Wikia is a free-to-use site that makes money from advertising. We have a modified experience for viewers using ad blockers

Wikia is not accessible if you've made further modifications. Remove the custom ad blocker rule(s) and the page will load as expected.