#5: Enter Mark Twain
Dark green velvet dress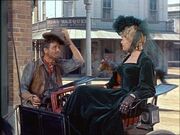 As I said previously, I do not like this dress. And I like it even less on Minnie Billington then I did Lotta Crabtree! On Lotta, at least the colors matched. Lotta had dark brown hair and the dress is dark green. With Minnie, she has almost bleached bright hair and it just doesn't go with the dark color... As for the hat, well, let me put it this way: if you turned it upside-down, it would make a wonderful duster!
(Trivia: Another character wears this dress. See here.)

Pink nightgown
Now, this I like! It's long, flow-y, great color, and I like it! Look at the long bow and sleeves! Mwaa! The only drawback is the collar. It is two heavy and big for such soft dress.






Teal dress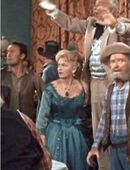 This dress puzzles me. Not that I don't like it; I think it is very pretty and a fine dress. But it doesn't look right on Minnie. Someone younger would look much better in it. The only thing I don't like at all is the big circular neckline. It is to big and doesn't fit the dress. But that aside, it is very lovely, just not on Minnie!
(Trivia: Someone younger DOES wear it! See here.)






Brown shawl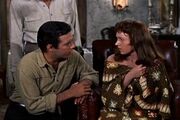 Poor Rosemary Lawson! She has so many things happening to her in this episode, and on top of all that, she has to wear this! Ug!
(Trivia: Other characters wear THIS. See here.)
Ad blocker interference detected!
Wikia is a free-to-use site that makes money from advertising. We have a modified experience for viewers using ad blockers

Wikia is not accessible if you've made further modifications. Remove the custom ad blocker rule(s) and the page will load as expected.