Hoss turns to a clairvoyant named Judith Coleman to help in a search for Jamie, who has gotten lost in the high country. However, Judith is reluctant to help out, fearing that her psychic abilities will ruin her engagement to a minister who opposes her gift as witchcraft.
A woman is blessed with the gift of "second sight", or clairvoyance. Jamie is missing and the Cartwrights would like Judith to use her talent to locate him. Her fiance, a minister, objects to her using her skills.
Cast and Characters
Edit
The Cartwrights
Edit
Recurring
Edit
German episode title: "Wer findet Jamie?", meaning "Who Finds Jamie?".
This episode and The Strange One were put together to form a 1989 TV Special called Bonanza: The Movie which aired on cable's USA Network.
Film negative format (mm/video inches)
Edit
35 mm
Printed film format
Edit
35 mm
Aspect ratio
Edit
1.33 : 1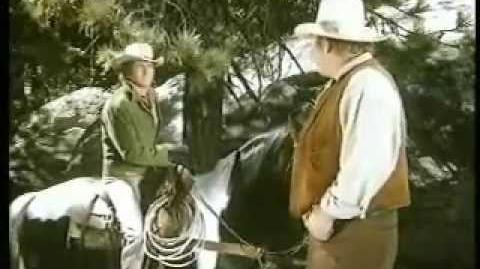 Ad blocker interference detected!
Wikia is a free-to-use site that makes money from advertising. We have a modified experience for viewers using ad blockers

Wikia is not accessible if you've made further modifications. Remove the custom ad blocker rule(s) and the page will load as expected.