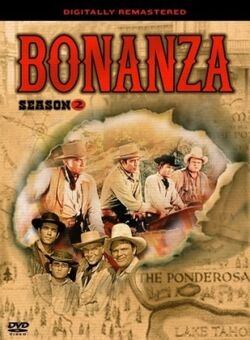 Season 2 on Bonanza premiered on September 10, 1960.
Season 2 Overview
Edit
Ben Cartwright (Lorne Greene) and his boys, Adam (Pernell Roberts), Hoss (Dan Blocker) and Little Joe (Michael Landon), are back riding the Ponderosa in this collection of thirty-four episodes from the classic Western TV series. This time around, Hoss and Little Joe find themselves in treacherous territory when they're mistaken for dangerous gunslingers in a small Texas town. And the entire family comes to the aid of an innocent man accused of murder. They were fighting for justice.
#
Image
Title
Airdate
01
Showdown
September 10, 1960
A bank robber takes a job with the Cartwrights to prevent the sheriff from tracking down his accomplices.
02
The Mission
September 17, 1960
Charlie Trent used to be an Army scout. Now he's the town drunk. Hoss helps him regain his self-esteem when he has him volunteer to lead a gold-bearing troop through the desert where there's very little water.
03
Badge Without Honor
September 24, 1960
Adam's life is saved by an enigmatic U. S. Marshal who has come to Virginia City to arrest a friend of the Cartwrights.
04
The Mill
October 1, 1960
The Cartwrights construct a grist mill to help neighbor Tom Edwards, a disabled man who bitterly blames Ben for his condition. Tom is being manipulated by hired hand Ezekiel, who's not only cheating him out of his money, but also intends to steal his wife.
05
The Hopefuls
October 8, 1960
Adam, Hoss, and new friend Sam Board act as escorts for a wagon train of Quakers who are heading to California to purchase land for their settlement. While Adam falls for the group leader's daughter, Reginia, Board plots to rob the group of its life savings.
06
Denver McKee
October 15, 1960
Ranchers are being killed, cattle stolen, and retired U.S. Deputy Marshall Denver McKee leads various posses after the suspects but never seems to be able to find them. In the meantime, McKee seems to have plenty of money to take care of his gorgeous daughter back home from schooling in the East.
07
Day of Reckoning
October 22, 1960
When an Indian saves Ben Cartwright's life from a near fatal knife attack by another Indian, Ben later gives the Indian and his pregnant wife a strip of fertile farming land. Unfortunately the land is next to and very racist farmer and things turn deadly.
08
The Abduction
October 29, 1960
Joe and Hoss take their dates to a bizarre traveling carnival and Joe's girlfriend Jennifer disappears. She's abducted by the evil owner, Phillip Reed, and held for one million dollars ransom. Joe and Hoss tear the circus apart to find her, meeting resistance from the carny folk.
09
Breed of Violence
November 5, 1960
Dolly Kincaid so feed up with her extremely dominant, controlling, sheriff father, that she runs away with her boyfriend. She later finds out he is the leader of some murderous bank robbers and when they kidnap Hoss and Joe, she still sticks with him.
10
The Last Viking
November 12, 1960
Gunnar Borgstrom is the leader of a vicious band called the Commancheros. They burn houses, kill people and steal anything of value. When the Commancheros get to Nevada, Gunnar decides to visit his relatives, the Cartwrights. Meanwhile the gang capture Little Joe and his girlfriend. When Gunnar returns to the gang, he has no idea who Joe is because he'd never met his nephew before.
11
The Trail Gang
November 26, 1960
About to set out on a cattle drive, Ben hires a young drifter named Sam Jackson as one of his drovers. What he doesn't know is that Jackson is really outlaw Johnny Logan, who signed on to the drive because he knew it was going to pass near the town of Waycross, and Logan is determined to kill the Waycross sheriff - who is his father.
12
The Savage
December 3, 1960
Adam rides up on some Indians wanting to harm a white woman they believed was a mountain spirit. He kills them but not before they wound him. The woman nurses him back to health but the rest of the tribe is still out there looking for her.
13
Silent Thunder
December 10, 1960
Angry with the way a beautiful deaf girl is treated by her father, Little Joe takes it upon himself to teach her sign language so they can communicate better. His plan backfires when the young woman falls in love with him and the girl's brutish neighbor resents her lavishing attention on the youngest Cartwright.
14
The Ape
December 17, 1960
Hoss mentors a lonely, mentally challenged man who, with superhuman size and strength, becomes extremely dangerous when angered. These efforts are undermined by a saloon girl who only wants this giant man-child to manipulate him.
15
The Blood Line
December 31, 1960
When 16-year-old Todd Grayson arrives from Boston to Virginia City, he is told that his father has been killed by Ben Cartwright. Ben shot Luke Grayson in self-defense, but Todd won't listen to this. The boy has only one thing in his head: to avenge his father by killing Ben Cartwright.
16
The Courtship
January 7, 1961
Hoss falls prey to the wiles of a beautiful woman with a gambling addiction and refuses to believe she's only interested in his money in spite of Adam's proof to the contrary.
17
The Spitfire
January 14, 1961
After Joe kills a man in self defense who tried to set fire to the Ponderosa to clear himself some land, he has to take his lively, feisty, wild, daughter home and she, and her relatives, are now determined to kill Joe.
18
The Bride
January 21, 1961
The Cartwright boys are shocked by the unexpected arrival of a beautiful young woman who claims to be Mrs. Ben Cartwright. But when Ben comes home to the Ponderosa that night, the new bride declares that he is not the man she married and the Cartwrights soon find themselves involved in what could become a fatal case of mistaken identity.
19
Bank Run
January 28, 1961
Hoss and Joe rob a bank for altruistic reasons in and are pursued by the law.
20
The Fugitive
February 4, 1961
Adam heads to Mexico to bring back the body of an old friend's dead son. However, when he arrives he discovers that Carl Reagan isn't popular among the townspeople. He also isn't dead.
21
Vengeance
February 11, 1961
Hoss accidentally kills Willie the town drunk. His remorse may not be enough to stop Willie's hate-filled brother who only wants revenge even though the towns people know it wasn't Hoss' fault.
22
Tax Collector
February 18, 1961
Jock Henry is a very likeable fellow. Ask anyone. When he's given the job of collecting taxes, his peculiar methods of figuring out what people owe causes everyone to reconsider.
23
The Rescue
February 25, 1961
24
The Dark Gate
March 4, 1961
Ross Marquette's behavior over the past few months can't be easily explained -- beating his wife, rustling cattle, robbing a stage, killing a man. Adam is determined to find out why his friend is acting so strangely before it's too late.
25
The Duke
March 11, 1961
An arrogant British boxer who calls himself "The Duke of London" shows up in town with his drunken brother/manager, Limey. He viciously beats a meek young man, J.D., and then assaults his girlfriend. Hoss eventually takes on "The Duke" in a match that will hopefully teach the loutish show-off a lesson.
26
Cutthroat Junction
March 18, 1961
Jed Trask has been with the Sierra Mail & Stage Lines for many years. When a group of gunmen in the town of Latigo cuts off delivery of the goods and mail, he goes after those responsible with the help of some on the Virginia City council - the Cartwrights.
27
The Gift
April 1, 1961
Little Joe is off to buy a gift for his pa's birthday. He's unaware that where he is heading the local Indians are on the war path and they've got him in their gun sights.
28
The Rival
April 15, 1961
29
The Infernal Machine
April 22, 1961
30
The Thunderhead Swindle
April 29, 1961
The mines in the Comstock Lode seem tapped out. With the sharp rise in unemployment, the promise of silver found in the thunderhead could mean boom or bust to everyone in Virginia City. Can the Cartwrights make sure that it's kept?
31
The Secret
May 6, 1961
Joe is accused of murdering a girl. Her father and brothers want to hang Joe and The Cartwrights race to prove his innocence.
32
The Dream Riders
May 20, 1961
Hoss gets diverted by a hot air balloon while a family friend robs the Virginia City bank.
33
Elizabeth, My Love
May 27, 1961
At the bedside of a seriously ill Adam, Ben thinks back to his days as a first mate on a sailing ship and his marriage to Adam's mother, Elizabeth Stoddard.
34
Sam Hill
June 3, 1961
Blacksmith Sam Hill is told to give up the land where his mother is buried. His useless drunken father has sold the property to a self-styled military leader with his own private army.
Ad blocker interference detected!
Wikia is a free-to-use site that makes money from advertising. We have a modified experience for viewers using ad blockers

Wikia is not accessible if you've made further modifications. Remove the custom ad blocker rule(s) and the page will load as expected.