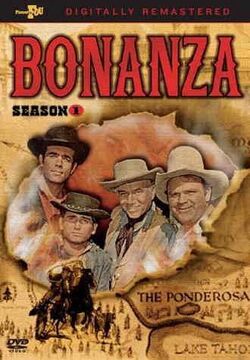 Season 1 on Bonanza premiered on September 12, 1959.

Season/Series Overview
Edit
One of the longest running and most popular of all television westerns, Bonanza was both an action/adventure classic and family drama. For fourteen seasons, audiences enthusiastically tuned in to see the High-Sierra adventures of the Cartwright clan. Nestled amongst the pines above the shores of Lake Tahoe is the Ponderosa ranch, the thousand-acre home of Ben Cartwright and his sons, Adam, Hoss and Joe (aka "Little Joe.") Plots featuring revolving cast of interesting guest players helped to set Bonanza apart from the usual gun-slinging formula Westerns of the day.
#
Image
Title
Airdate
01
A Rose for Lotta
September 12, 1959
Lotta Crabtree is hired by mining tycoon Alpheus Troy to lure one of the Cartwrights into town and hold him for ransom in exchange for Ponderosa timber rights.
02
The Sun Mountain Herd
September 19, 1959
The Cartwrights go up against two San Francisco men who plan to get rich by killing off the antelope herds--which the Indians rely on for their food--and selling the meat to Virginia City's swarms of gold miners.
03
The Newcomers
September 26, 1959
Hoss invites trouble when he falls for Emily Pennington, the fiancée of a treacherous prospector.
04
The Paiute War
October 3, 1959
In order to escape punishment for mistreating two Paiute women, a trader blames it on Adam Cartwright. The Paiutes seize Adam and make him a hostage as war erupts between the tribe and a local militia.
05
Enter Mark Twain
October 10, 1959
Sam Clemens arrives in Virginia City as a reporter at the "Territorial Enterprise". The Cartwrights and Clemens quickly become allies to fight a crooked judge running for office.
06
The Julia Bulette Story
October 17, 1959
Joe falls in love with an older woman, attractive Julia Bulette who owns a saloon in Virginia City. Joe's Pa and his brother's aren't pleased, and neither is Jean Millain, who believes that Julia is his and his alone.
07
The Saga of Annie O'Toole
October 24, 1959
Feisty Annie O'Toole comes west with her old Da to mine silver and winds up feeding the silver miners, shanghaiing Adam Cartwright to be her partner in her tent-kitchen, "The Square Meal", and her attorney in Miner's Court when an old enemy challenges her right to her claim.
08
The Philip Deidesheimer Story
October 31, 1959
Adam and Hoss meet Philip Diedesheimer, a Dutch immigrant who is trying to convince the silver mine owners in Virginia City that his square set mine system works. When a friend of Adam gets killed in a mine collapse, the Cartwright boys set about making sure that Deidesheimer is given the chance he deserves.
09
Mr. Henry Comstock
November 7, 1959
The Cartwrights are met by an old coot who claims they're on his land; he even has a deed signed by Henry Comstock to prove it. They explain that the paper is worthless because Comstock was a con-man. The episode flashes back to how Comstock accidentally found the huge silver deposit while trying to pull a swindle, and how Virginia City got its name.
10
The Magnificent Adah
November 14, 1959
Famous actress Adah Isaacs Menken visits Virginia City with her popular play. She and Ben go way back and the two begin to renew their friendship -- much to the chagrin of Adam, Hoss and Joe. However, Menken's boyfriend, John Regan, a professional fighter, has plans of his own for the beautiful actress.
11
The Truckee Strip
November 21, 1959
12
The Hanging Posse
November 28, 1959
Little Joe and Adam join a posse bent on catching the murderers of Vannie Johnson. The longer they take to catch them, the more whipped into a lynching party they become, much to the liking of the grieving widower.
13
Vendetta
December 5, 1959
While in the bank, Ben and Hoss are caught in a robbery by the Morgan gang. Ben gets shot but manages to take down one of Morgan's brothers. Leader Carl Morgan vows to avenge his death and the town cowers in fear. This leaves only Ben, Hoss, a drunk and a visiting doctor to defend the town against the Morgans.
14
The Sisters
December 12, 1959
Adam is courting Sue-Ellen Terry, a woman of questionable reputation. When Sue-Ellen is gunned down, the town drunk says he saw Adam do it. Adam claims his innocence, but the men of Virginia City, many of whom have enjoyed Sue-Ellen's company, fail to come to his defense.
15
The Last Hunt
December 19, 1959
Hoss and Little Joe soon discover that the Shoshone Indian brave who tries to rob their hunting camp is actually a soon-due, pregnant Shoshone woman who refuses to tell them why she left her tribe and appears to be making her way towards Virginia City.
16
El Toro Grande
January 2, 1960
After tangling with bandits on the way to California to buy a prize bull for the Ponderosa, Little Joe fends off a pretty senorita and her jealous fiancé, while Hoss discovers that the bull has been spirited away by a little boy who is convinced that the Cartwrights plan to kill and eat his big bovine friend.
17
The Outcast
January 9, 1960
The Cartwrights come to the aid of Leta Malvet when she is ostracized by the community after her father and brother are hanged by a lynch mob for killing two men while trying to rob the stagecoach. But Adam is sure that the gang will try again when they find out that the Malvets came up empty-handed and suspects that it's no coincidence when Leta's beau, bad boy Clay Renton, comes back to town.
18
A House Divided
January 16, 1960
Ben tries to uncover the reason gold and silver exporter, Frederick Kyle, has befriended Little Joe before the shadowy businessman's hidden Civil War agenda tears Virginia City, and the Cartwright family, apart.
19
The Gunmen
January 23, 1960
Hoss and Little Joe are mistaken for bloodthirsty hired killers in a small Texas town dominated by two feuding families.
20
The Fear Merchants
January 30, 1960
The Cartwrights come to the aid of a Chinese-American stable hand accused of murder. Opposing them is a manipulative mayoral candidate who wants all "foreigners" to leave Virginia City.
21
The Spanish Grant
February 6, 1960
The Cartwrights try to disprove the validity of a Spanish land grant to stop the De La Cuesta family from seizing part of the Ponderosa and all of the Carson Valley settlers' homestead lands.
22
Blood on the Land
February 13, 1960
Jeb Drummond is a murderous sheep herder that has Adam taken hostage to try and force Ben to sign over a large section of Ponderosa land to him.
23
Desert Justice
February 20, 1960
When a brutal U.S. Marshal arrests one of the Ponderosa's workers for murder to transport him to Los Angeles for trial, Hoss and Adam come along to make sure the Marshal doesn't kill him before they get there.
24
The Stranger
February 27, 1960
Inspector Leduque comes from New Orleans to Virginia City to take Ben Cartwright back for a 20 year murder. When Ben declares publicly that he is withdrawing from the Governor's race, the townsfolk are upset not just about this but Little Joe has also been accused of gunning down Leduque's deputy in cold blood.
25
Escape to Ponderosa
March 5, 1960
Adam is bushwhacked by three deserters from the Army who are hiding out on the Ponderosa. When Ben pursues them, he is hindered by a Captain Bolton, the arrogant commander of a military posse who is also after the men.
26
The Avenger
March 19, 1960
Ben and Adam are locked in jail, about to hung for a crime they didn't commit. Joe and Hoss must find out why the witnesses to the alleged crime have perjured themselves before the execution takes place. They receive help from an unexpected source, a drifter called Lassiter.
27
The Last Trophy
March 26, 1960
Lord and Lady Dunsford arrive at the Ponderosa to visit their old friend Ben. Adam finds himself the object of Lady Dunsford's attentions when she deems him to be a braver man than her husband. Adam then takes the couple on a hunting trip, where the party is captured by a band of renegades and Lady Dunsford begins to wonder if her husband will ever be the man he used to be.
28
San Francisco
February 15,1960
After a long cattle drive, the Cartwrights and their men looking forward to painting the town of San Francisco. Despite Ben's warning to be careful, a couple of their naive hands get themselves shanghaied and on a boat heading to China. After Ben goes to save the men, Hoss and Joe end up having to do the same for their Pa.
29
Bitter Water
April 9, 1960
A neighboring rancher, Andy, is good friends with Ben, but his son (Todd) wants to sell their land for mining operations which will spoil the water rights agreement that Andy and Ben made years ago.
30
Feet of Clay
April 16, 1960
The Cartwrights take young Billy Allen to the Ponderosa following the death of his mother. Hoss is the only one that is able to penetrate the boy's hostility and bitterness. As the two begin to get close, Billy's father Vance breaks out of prison and comes for the boy.
31
Dark Star
April 23, 1960
Little Joe comes upon a gypsy girl. Frightened, she runs and falls, becoming unconscious. When she wakes, they discover that she believes she is bewitched and so do her people who banished her. Her birth under a dark star has fostered this belief. Little Joe, smitten, must rescue her from this belief and her people.
32
Death at Dawn
April 30, 1960
Criminals have taken over Virginia City and are forcing citizens to pay for protection lest they suffer an "accident". A store owner who didn't pay is murdered by gang member and the sole witness, the victim's wife Beth, is offered protection at the Ponderosa. For his trouble, Ben is kidnapped by the gang leader.