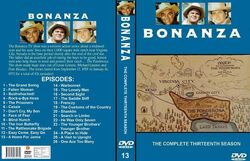 Season 13 on Bonanza premiered on September 19, 1971 on NBC and ended on April 2, 1972. This season started with the episode The Grand Swing and ended with One Ace Too Many.
#
Image
Title
Airdate
01
The Grand Swing
September 19, 1971
Against Ben's orders, Jamie drives a supply wagon on a route he's not supposed to; he loses control and wrecks the wagon. Jamie escapes uninjured but one of the horses is so badly hurt it has to be shot. To teach Jamie a lesson in responsibility, Ben decides to take his adopted son on an extended tour of the Ponderosa...
02
Fallen Woman
September 26, 1971
An alcoholic woman lashes out at Hoss after his testimony sends her husband to prison. She gets back at him by forcing Hoss to take custody of her young son, Petey. Hoss must decide whether to ask the court to adopt him, or help the mother deal with her alcoholism.
03
Bushwhacked
October 3, 1971
Two ranchers find a seriously wounded Little Joe in the Nevada desert. As he struggles for life, Joe mumbles incoherently about his surrealistic nightmares about a teepee and a wagon wheel. Ben and Hoss are left to decipher what Joe is talking about and determine what happened.
04
Rock-a-Bye, Hoss
October 10, 1971
A "beautiful baby" contest that Hoss is judging quickly turns into a circus, thanks to the fortune-hunting parents who are determined to win at all costs.
05
The Prisoners
October 17, 1971
Little Joe helps an old-time sheriff escort cunning outlaw Hank Simmons to jail. The crafty Simmons kills the sheriff and injures Joe, but Joe turns out to always be one step ahead of Simmons.
06
Cassie
October 24, 1971
Ben and a pregnant woman are held hostage by a gang of robbers, who are plotting a stagecoach robbery and are determined to prevent interference by anyone with the name Cartwright.
07
Don't Cry, My Son
October 31, 1971
Traumatized by the death of her baby, Ruth Sloan walks out on her husband, an overworked doctor. These two events are more than Dr. Sloan can handle; he snaps and takes the newborn of one of his patients, thinking it his his own child.
08
Face of Fear
November 14, 1971
Jamie's girlfriend, Neta Thatcher, witnesses a drifter named Griff Bannon rob and kill a man at a roadside camp. Bannon - who assumes his victim's identity and inherits his fortune - is aware that Neta has witnessed the crime and begins stalking her. Neta is terrified to tell anyone about the crime she witnessed.
09
Blind Hunch
November 21, 1971
Will Hewitt is a man with a crime to solve. Blinded in the final battle of the Civil War, he gets Jamie's assistance in tracking down the man who killed his brother.
10
The Iron Butterfly
November 28, 1971
Vengeful Sen. Carson pins the blame on Hoss when his son is killed by his ex-girlfriend. The Cartwrights do all they can to stop Carson from destroying the Ponderosa.
11
The Rattlesnake Brigade
December 5, 1971
A prison wagon full of murderous criminals stops in Virginia City. Led by Doyle, they escape and take Jamie and three other teenagers hostage. Doyle and his cronies lock them in a remote cabin while they demand $50,000 of the townspeople for the hostages' safe return.
12
Easy Come, Easy Go
December 12, 1971
In the third episode featuring the Calhouns, Luke is bankrupted after a stock investment gone bad, so he and his daughter, Meena, move to the Ponderosa until he can get back on his feet. Without Ben's permission, Luke turns the Ponderosa into a casino, with lap dances and gambling all over the place. Meanwhile, Meena continues her frantic search for a husband, where she left off in season eleven's "Meena".
13
A Home for Jamie
December 19, 1971
Ben begins the process to adopt Jamie as his son, but the process is complicated when Jamie's maternal grandfather, Paris Callahan, comes forward wanting custody. Ben must bear the heartbreaking news to Callahan that Jamie has bonded with the Cartwright family.
14
Warbonnet
December 26, 1971
Joe is caught in the middle of a bitter dispute between an aging Native American chief and the man who stole the Indian's warbonnet years ago as a saloon decoration.
15
A Lonely Man
January 2, 1972
While on a vacation prospecting for gold, Hop Sing meets a shy, sheltered woman who's run away from her parents. The two fall in love and want to marry, but learn the law prohibits interracial marriage; when in Virginia City to meet with a judge, the townspeople display their bigotry.
16
Second Sight
January 9, 1972
A woman is blessed with the gift of "second sight", or clairvoyance. Jamie is missing and the Cartwrights would like Judith to use her talent to locate him. Her fiance, a minister, objects to her using her skills.
17
The Saddle Stiff
January 16, 1972
Ben's decision to let a ranch hand go for incompetence gets the old man riled up. Cactus Murphy challenges the Cartwright patriarch to do the work he usually does in a week, and without using his status to get it accomplished. Ben accepts the challenge and goes to work incognito on the Ponderosa.
18
Frenzy
January 30, 1972
Ben's friendship with the Kosovos, a young immigrant family from Serbia, puts him in danger when family patriarch Nick suffers a psychotic snap, goes on a rampage and barricades them in their home. Ben does all he can to reason with Nick, whose wife and son have become deathly afraid of him in the process - especially since the consequences could be deadly if Ben says the wrong thing.
19
Customs of the Country
February 16, 1972
In a comic episode, Joe and Hoss visit the small Mexican town of Agua Santos where they enforce some peculiar laws. Even the most mundane things get you tossed in jail, as the Cartwrights soon discover. Hoss wants to get out of jail as quickly as possible, but Joe's in no hurry. He's being spoiled by a bevy of senoritas who cater to his every whim.
20
Shanklin
February 13, 1972
A former confederate soldier and his gang demand $25,000 from Ben and shoots Hoss, leaving him gravely injured. In an twist of fate, Hoss' life rests in the hands of the soldier who shot him.
21
Search in Limbo
February 20, 1972
Ben closes a land transaction with Sid Langley, a man he despises because of his shady business practices. After being overcome with a terrific headache, Ben awakens and realizes he remembers nothing of the past day. During that time, Langley was shot and killed by an unknown assailant. Unsure if he was the gunman, Ben tries to reconstruct the activities of the past day to prove his innocence.
22
He Was Only Seven
March 5, 1972
A 7-year-old boy is killed when he walks into the bank during a robbery by the ruthless Springer gang. Joshua, the boy's angry, grieving, and wheelchair-bound grandfather, wants revenge. Joe, Jamie, and Joshua head towards Mexico to track down Springer.
23
The Younger Brothers' Younger Brother
March 12, 1972
Hoss - who is on a delivery run for the Ponderosa - is mistaken as a member of the bumbling Younger Brothers gang. Ben and Joe are eventually able to convince the authorities to let Hoss go, but not after a series of misunderstandings wherein they too are involved with the Youngers' gang.
24
A Place to Hide
March 19, 1972
The Cartwrights are asked to act as intermediaries when fugitive Confederate Col. Cody Ransom wants to turn himself in. Union Maj. Donahue has been pursing Ransom for many years after the war ended and has refused to accept anybody's terms of surrender especially since Donahue considers capturing Ransom a personal matter.
25
A Visit to Upright
March 26, 1972
Ben's ability to close a livestock contract with a widow who's part of the temperance movement hinges on the sale of a dilapidated saloon in Upright. The Cartwright "boys" decide to hold on to the dive after the town drunk insists there's a fortune hidden somewhere in the building.
26
One Ace Too Many
April 2, 1972
While Ben's away in Carson City, his doppelganger, crafty and crooked Bradley Meredith, returns to assume his identity. His scheme to get his hands on the Cartwright's properties involves pretending "Ben" is seriously ill and selling off the Ponderosa a piece at a time.
This was the last season to star Dan Blocker before his death.