Lucas Rockwell

What's the matter Captain, you finding the land of milk and honey tougher than the sea?
Biographical information
Full Name:
Lucas Rockwell
Occupation:
-
Gender:
Male
Race/Ethnicity:
-
Hair color:
Ginger
Eye color:
Blue
Born:
-
Died:
Killed by Indians at Ash Hollow
Personal
Family/Relatives:
-
Spouse
Wife deceased
Romances/Domestic Partners:
-
Children:
Possibly 2 or more.
Profile
Appeared on:
First Episode:
Journey Remembered
Last Episode:
Journey Remembered
Portrayed by:
Gene Evans
Personal Information
Edit
When he was young his father gave him a seedling tree to look after and grow. His attempts failed and the tree died, he tore it out of the ground out of frustration.
Lucas Rockwell was a married man, his wife's name is never disclosed and he mentions to Ben during a scuffle that he had kids. Rockwell lost his family during an Indian raid, they murdered and scalped them and since then he's had a strong hatred to Indians.
Rockwell drifts from town to town depending on where he can make some money. He happens to make some money with a man called Wilkes, but is unable to collect his share. When Rockwell finally comes to collect his share of the money, Wilkes has gone.
Rockwell finds out that Wilkes left town with a wagon train and proceeds to follow them. At night when the wagon train has stopped for the night, Rockwell confronts Wilkes and finds out he squandered the money on cards whilst waiting for Rockwell.
He is interrupted by Ben who has come to speak to Wilkes, Rockwell shoots Wilkes dead when Wilkes attempts to shoot him in the back. With Ben as his witness they bury Wilkes the next day.
Ready to ride out, Rockwell is asked by Ben to take them to Ash Hollow to meet with the Ryan Company who will take them onto California. Rockwell declines and tells Ben he only wants what's owed to him. Ben tells him he'll only get the money if he gets them to Ash Hollow. Seeing no other way to get his money, Rockwell agrees to take everyone.
Rockwell is a hard task master and he rides the wagon train hard, even after 15 miles he refuses to stop telling everyone to keep moving. At night their camp is raided by Indians who steal their horses and some supplies. Rockwell with Ben go looking for them and eventually come across the three of them. Rockwell shoots one of the Indians dead and has no qualms about killing the other two, however Ben stops him.
It is here we find out Rockwell only agreed to come along so he could watch Ben fail at his dream and lose his wife and children to it.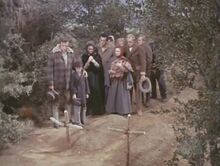 Rockwell successfully brings the wagon train to Ash Hollow however the Indian he killed, his tribe is after revenge. Barricading themselves in the way station, Rockwell is injured by a bullet to the shoulder. This causes Inger to participate in defending the way station and ultimately her death. Rockwell sees now that dreams are only achieved if you believe in them and realises the tree his father gave him died because he didn't want it. He tells Ben to follow his dream as his wife wanted and surrenders himself to the Indians. He is laid to rest next to Inger.