Joe's friend Wade has a tumor which slowly, but surely begins to cause him to lose his sight. Complicating the situation even more, is Wade's co-worker Clyde, who frames him for stealing money from their workplace.
Wade and Sarah are engaged to be married. Wade even gets a promotion from his boss. Unfortunately, he begins to develop an extreme sensitivity to bright light, which causes him some pain and anger. Clyde notices this, and uses it to his advantage, taking $5,000 dollars and framing Wade for the crime. Wade goes to a doctor who reveals the he has a tumor and needs surgery, but Wade declines and leaves town after breaking up with Sarah. Joe chases after him and, promising to help, convinces him to return to town and to the love of his life. Clyde, however, shoots Joe and then tries to kill Wade, but fails. He and Sarah get back together and all is well.
Cast and Characters
Edit
The Cartwright :
Edit
Recurring:
Edit
Guest Starring:
Edit
Gregory Walcott: Wade Turner
Sandra Smith: Sarah
Dabney Coleman: Clyde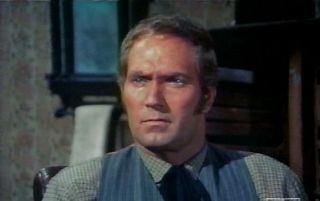 Ad blocker interference detected!
Wikia is a free-to-use site that makes money from advertising. We have a modified experience for viewers using ad blockers

Wikia is not accessible if you've made further modifications. Remove the custom ad blocker rule(s) and the page will load as expected.